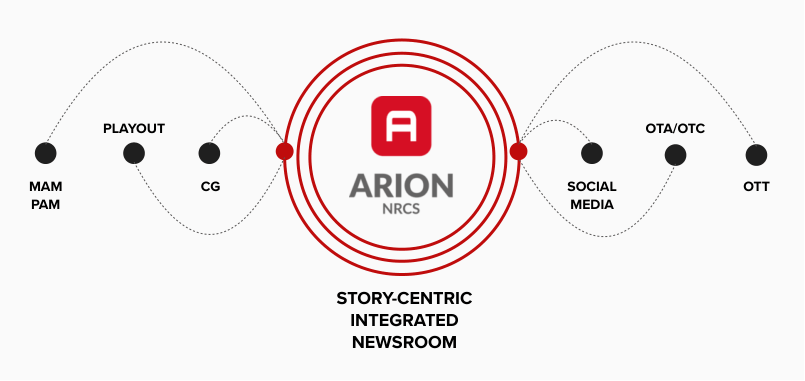 In the fast-paced world of media and broadcasting, efficiency and adaptability are essential. Newsrooms need solutions that seamlessly integrate with their existing systems and workflows, enabling them to stay ahead of the competition. That's where Arion NRCS, our state-of-the-art journalism system, comes into action.
Integration Without Limits
At SNEWS Newsroom Solutions, we take pride in our ability to integrate rapidly with nearly any system, provided that the integration partner has updated documentation and is available. This flexibility is a game-changer for newsrooms looking to streamline their operations, migrate from legacy systems, and embrace new business models. But what does this mean for you and your newsroom?
Adapting to Your Workflow
Whether you are using specific software, legacy systems, or third-party tools, Arion can seamlessly integrate with your existing setup, bringing centralization and increasing management capacity. This means you don't need to undergo a restructuring of your operations to benefit from our state-of-the-art newsroom solution. We adapt to you, not the other way around.
Efficiency and Time Savings
Imagine a newsroom where every technology and software works harmoniously. No need to juggle between different systems or deal with compatibility issues. The integration capabilities of Arion allow your team to focus on what matters most: creating engaging and high-quality content.
Efficient Collaboration
At SNEWS, we know that collaboration is the heart of the newsroom. The integration capabilities of Arion make it easier for your team to collaborate efficiently. Share content, data, and resources with ease, breaking down barriers and promoting a more collaborative work environment.
Tailored Solutions
We understand that each newsroom is unique, with its own set of tools and workflows. That's why our team works closely with you to create projects that meet your specific needs. Our specialized developers are ready to create solutions that eliminate obstacles in your ecosystem.
Stay Competitive
In an industry as competitive as media and broadcasting, staying ahead of the competition is essential. With the integration capabilities of Arion, you'll have the tools not only to keep up with the rapid changes in the industry but also to lead the way, integrating content verticals and doing more with less effort.
Conclusion
In a constantly evolving media landscape, integration is the key to efficiency, adaptability, and the ability to remain competitive. Arion, our state-of-the-art newsroom system, empowers your newsroom through seamless integration with various systems, offering a tailored, efficient, and scalable solution that puts you on the path to success.
Discover how Arion can revolutionize your newsroom's operations. Say goodbye to compatibility issues and welcome a newsroom prepared for the future, ready to face any challenge the industry presents.
Contact us today to learn more about how Arion NRCS can transform your newsroom.